Sally Hansen Content Calibration Test
When I first began Beamly, I had no idea what a calibration test was. But once I figured out what I could do with it and what I could learn, I was instantly obsessed.
A big part of what we do at Beamly involves constantly testing, learning and iterating on the trends we see daily. Calibration tests are designed to help brands learn how different creative approaches resonate with their target consumers. The patterns we've found from our research, data and surveys were leveraged in this calibration test, and continue to be used to guide brands when future creative campaigns are developed.
Methodology
Opportunity: Better understand how Sally Hansen consumers use and understand different terminology around the concept of "At Home Beauty/ Self Made Beauty/ and Self Care"
Several surveys were conducted by Beamly and The Foundry (my specific team in Beamly) to understand what beauty consumers identified with the most. The cultural landscape is changing every second, which means brands need to keep up, and we need to keep asking the right questions.
Three Google surveys were sent out and targeted to women in the US aged 18-44 to gain insights into their attitude and behavior surrounding the following topics:
1. Self Made Beauty
2. Self Care
3. At Home Beauty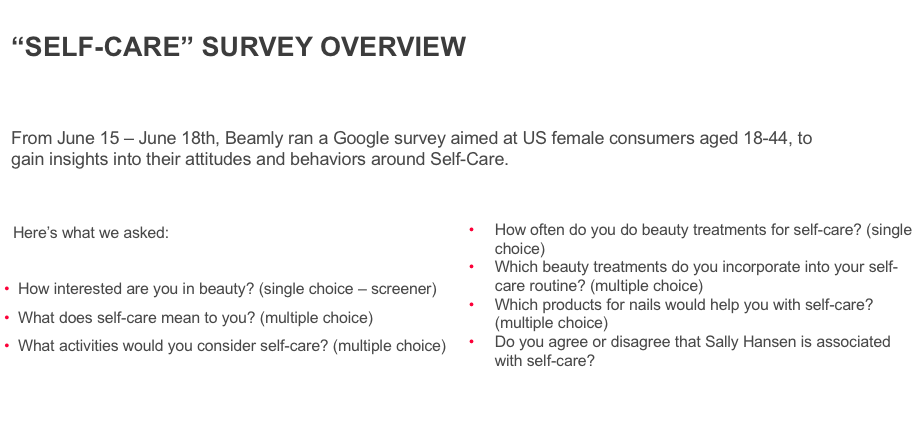 From our survey results, distinct patterns kept showing themselves.
1. Women enjoyed performing beauty treatments at home, saying it made them feel good.
2. Women enjoyed performing beauty treatments at home because it saves them time and money.
3. Women enjoyed performing beauty treatments before a special or specific outing.
4. Women chose "painting nails" as their favorite at home routine.
5. Women were more inclined to perform beauty treatments if the product was easy to use.
We DRILLED this into our heads.
Though five solid points came from our learning, ultimately three strong insights were formed.
Women 18-44:
1. Enjoyed engaging in at- home beauty treatments.
2. Like using products that are easy to to use and more affordable than salons.
3. Love getting ready for fun activities.
These insights were then developed into three themes with two interpretations for Sally Hansen to play in:
1. Girls Night In/ Girls Night Out
2. Save Time/ Save Money
3. Sunday Spa Day/ Self Care Sunday
Content Created
I wrote six articles in total, one for each interpretation.
Clicks to the article were generated by the 72 ad variants I also wrote which we blasted on Facebook. Each article had two different sets of 12 ads that initiated the click to the article. Each variant made sure to speak to:
1. Nail Care
2. Tanning
3. Hair Removal
These are all products Sally Hansen has to offer. The point was to see which variant or product mention received higher engagement from the target consumer.
Check out the ads I wrote below along with the images I also sourced: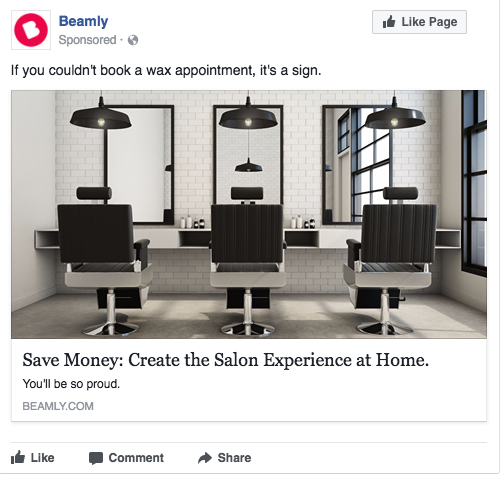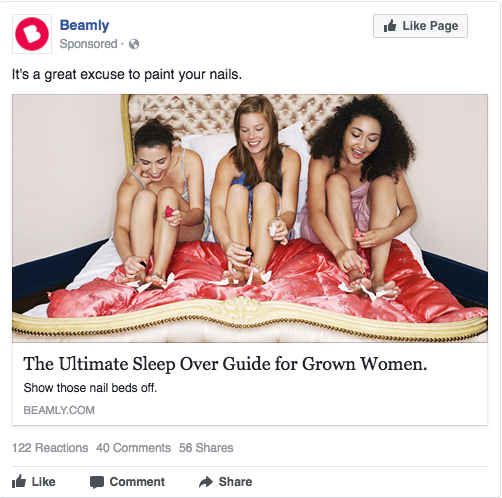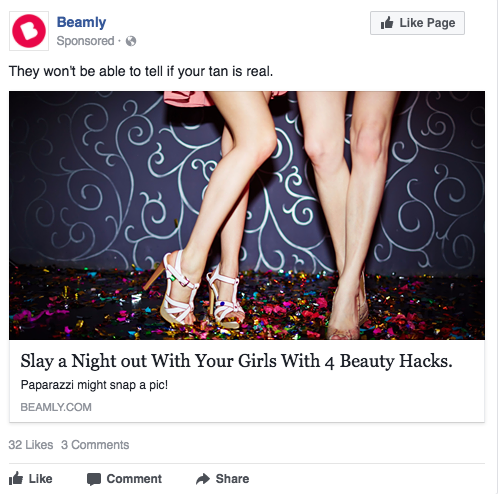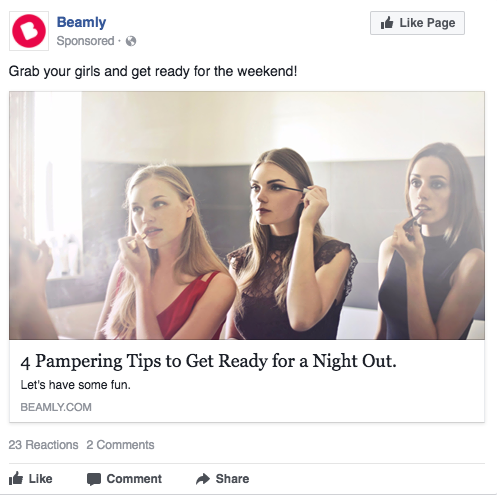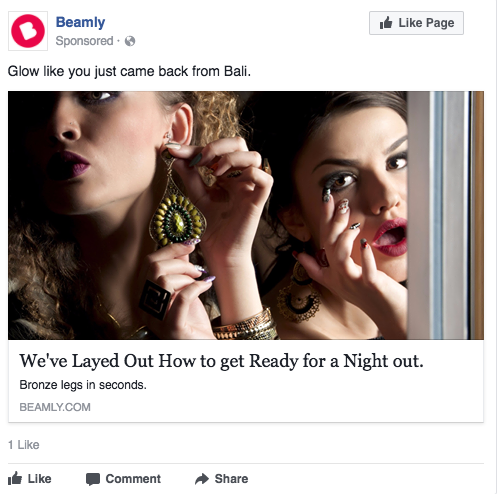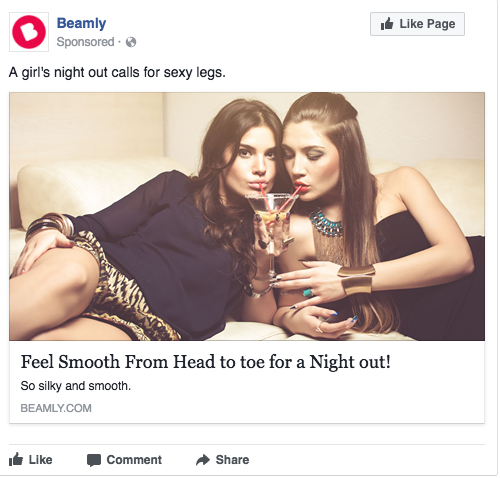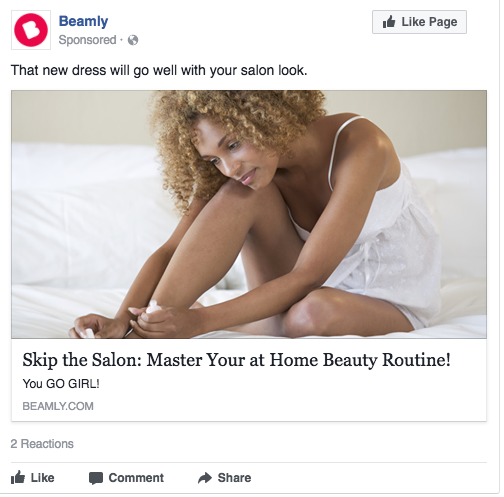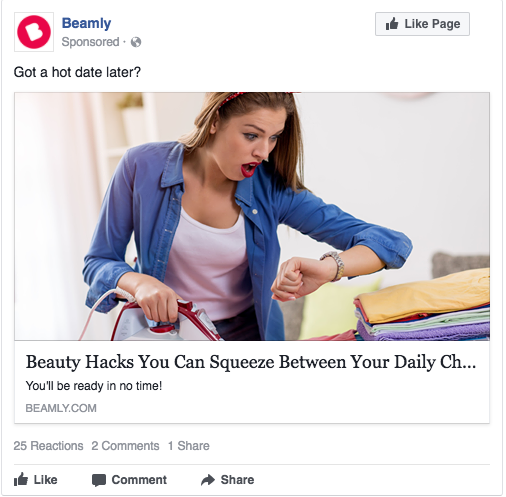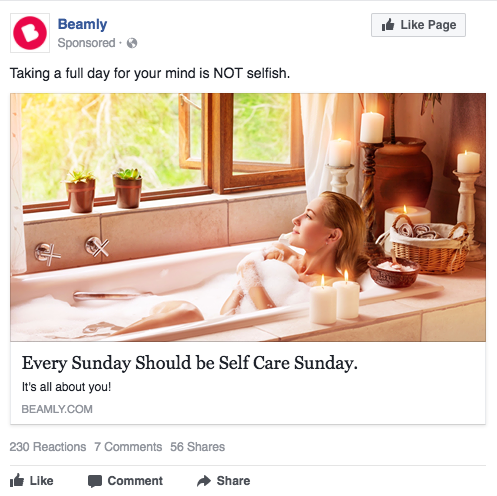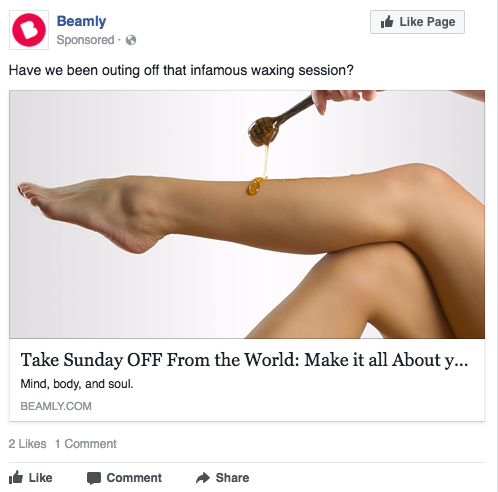 This test:
Reached 1.1 Million People
Generated 80.4k Clicks
Averaged a CPC of $0.18 across all ads; this CPC reached above benchmark for Beamly. (estimated average is $0.39)
Glad the hard work paid off.
Winning Theme
Though it was rewarding to see all the beautiful content received high engagement, we ultimately had to choose one winner, which went to...dun dun dun....
GIRLS NIGHT OUT!
Our data proved correct! Women gravitated towards content talking about tanning and painting their nails before heading out for a night on the town with the girls! This concept was then leveraged into a few Sally Hansen content executions, making all of it worthwhile.
Links to articles can be found here: